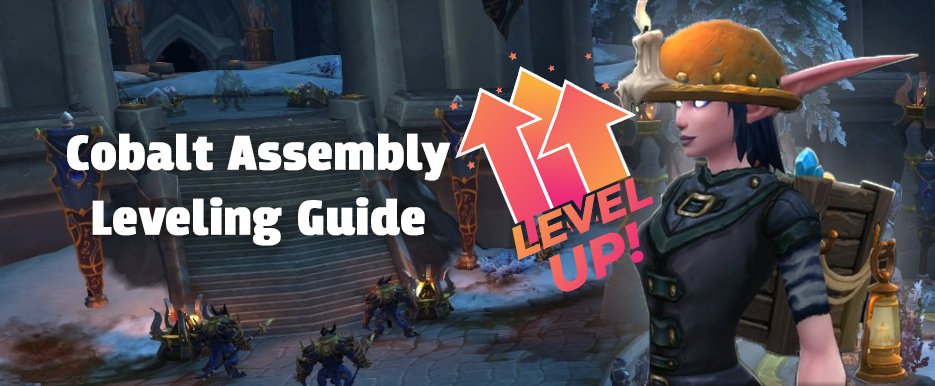 "Cobalt Assembly Leveling Guide"
World of Warcraft is an MMORPG that offers a wide variety of activities for players to enjoy. One of the most efficient ways to level up your character is through the use of cobalt assembly. With the new Leveling method, you can achieve 60-70 in under 2 hours, as well as 1-70 in under 6 hours.
This guide will walk you through the process step-by-step.
Preparation: You can level from 1-70 through Cobalt Assembly, as long as a Warlock summons you to the zone. This is the fastest method of levelling, being possible in just under 5-6 Hours total.
General Knowledge: The mobs in Cobalt Assembly being farmed are level 70 elites. They will one shot you! Make sure to stay at a safe distance so you don't get attacked and lose out on precious levels.
Cobalt Reputation: You can also gain a large amount of Reputation points with Cobalt Assembly during the Level Boosting. To earn this, ensure you loot the mobs in adequate timing.
Rested Experience: As the farm will take a couple of hours to complete, pairing the method with Rested experience increases leveling speed in Cobalt Assembly exponentially. You'll gain XP at an enhanced rate during the mob farming.
Repeat: Keep grinding and looting as many mobs as possible throughout the Cobalt Assembly Leveling. Its also important to note that m

oderate Arcana grants 15 Cobalt Assembly Reputation, and

Major Arcana grants 200 Cobalt Assembly Reputation.
How to find Cobalt Assembly Level Boost
We have the solution over at GladiatorBoost. If you'd like to powerlevel at a speed never before possible, Cobalt Assembly Level Boost is the service for you. Furthermore, the service is 100% safe guaranteeing you're ordered levels, saving you precious time to enjoy the end-game content to the max.
What to do after 60-70 Cobalt Assembly Levels
Now you've hit level 70 through Cobalt Assembly Leveling, the priority is to gear your character as fast as possible. You can do this through Weekly activities, world bosses, rares and quests. Also, you can purchase profession gear from the auction house, or hop straight into PvP Battlegrounds to get precious honor points.
Cobalt Assembly Leveling Conclusion
This is the greatest opportunity to level alts at the fastest speed possible, as well as gaining cobalt reputation in tandem. Although Blizzard issued nerfs to reputation gain, experience gains from leveling were left untouched, further guaranteeing the service to be the fastest option for 60-70 Leveling in WoW Dragonflight.
If you've had enough of tedious questing and dungeon grinds to hit level 70, consider giving Cobalt Assembly Level Boost a try before Blizzard weakens it!