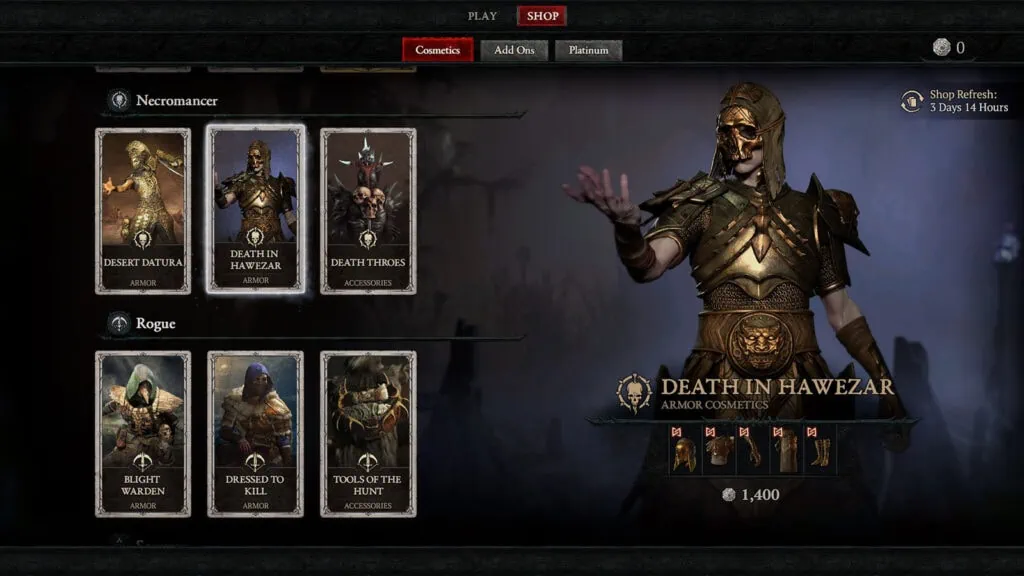 Delve into the world of Diablo 4 with our comprehensive Diablo 4 shop guide. Learn how the shop works, when it refreshes, and the available items to customize your gaming experience. Stay ahead of the curve and flaunt your unique style as you battle the forces of darkness in the latest installment of this popular action RPG series.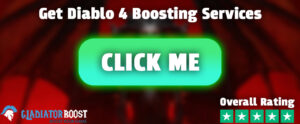 Introduction to Diablo 4 Shop
Diablo 4 presents a live service game complete with seasonal updates and an in-game shop. The shop, which can be accessed through the touchpad and by navigating to the Shop tab, enables players to acquire premium cosmetic items using a virtual currency called Platinum. By exchanging real money for Platinum, players can deck out their characters with unique skins and other accessories.
What Can You Buy in Diablo 4 Shop?
The Diablo 4 shop offers various cosmetic items, such as:
Armor sets and weapon skins

Mounts and mount cosmetics

Accessories like back trophies, emotes, and headstones

Add-on bundles and edition upgrades
These items are solely cosmetic and do not provide any gameplay advantages, ensuring a fair gaming experience for all players.
Diablo 4 Shop Refresh: When & How?
The Diablo 4 shop refreshes its inventory on a weekly basis, with the first refresh occurring on June 5, 2023. The refresh takes place every Monday, offering a rotating selection of premium cosmetics for players to choose from. If a desired item is not available, fear not – it is likely to return in future rotations.
Platinum: The Premium Currency in Diablo 4 Shop
To purchase items in the Diablo 4 shop, players must first acquire Platinum, the game's premium currency. Platinum can be bought in various bundles, ranging from 200 to 11,500 Platinum. The larger the bundle, the more bonus Platinum is included. However, the added value is relatively small, so it's essential to evaluate whether purchasing a larger bundle is worth it.
Below is a breakdown of Platinum bundle sizes and their respective costs:
| Bundle Size | Price (USD) / (GBP) | Price Per 100 Platinum Piece (USD) / (GBP) |
| --- | --- | --- |
| 200 | $1.99 / £1.79 | $0.99 / £0.89 |
| 500 | $4.99 / £4.39 | $0.99 / £0.87 |
| 1,000 | $9.99 / £8.39 | $0.99 / £0.84 |
| 2,800 | $24.99 / £20.99 | $0.89 / £0.75 |
| 5,700 | $49.99 / £41.99 | $0.87 / £0.74 |
| 11,500 | $99.99 / £84.99 | $0.87 / £0.74 |
To purchase Platinum, players can access their platform's store by following the appropriate link provided.
Exploring the Diablo 4 Shop: Cosmetics, Add-Ons, and More
The Diablo 4 shop is divided into several sections, each catering to different cosmetic preferences and player interests. These sections are:
Recommended For You: A selection of featured items tailored to your character class.

Class-Specific Bundles: Cosmetic sets and accessories exclusively designed for each class.

Mounts: Customizable mounts with unique skins, armor, and trophies.

Add-Ons: Large bundles purchasable with real currency, offering additional benefits like edition upgrades.
Each week, the shop offers a variety of items across all sections, ensuring there's something for everyone.
Battle Pass in Diablo 4: What We Know
Diablo 4 will feature a Battle Pass system, offering players a chance to unlock various items and boosts. The Battle Pass includes both a free track and a paid premium track, with the latter focusing on cosmetic items only. The free tiers will provide gameplay boosts, such as increased experience gains. This system ensures that players who opt for the premium tier gain no unfair advantages over those who don't.
Is Diablo 4 Pay-to-Win?
Diablo 4 is not a pay-to-win game, as all microtransactions revolve around purely cosmetic rewards. Players can purchase skins and other cosmetic items without affecting gameplay, maintaining a level playing field for all.
Additionally, Diablo 4 reintroduces the ability to apply transmogs to equipment, allowing free-to-play players to collect cool-looking skins without spending real money.
Conclusion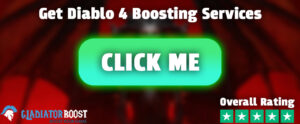 This Diablo 4 shop guide provides a comprehensive overview of how the shop works, its refresh schedule, and the various items available for purchase. By understanding the ins and outs of the shop, players can make informed decisions about their in-game purchases and fully customize their characters. Whether you're a newcomer or a seasoned Diablo veteran, this guide is an essential resource for navigating the world of Diablo 4's premium cosmetics and currency.